Where I Am
FEATURES
This page features author interviews - if you are an author and would like to submit a Q&A, check the Interviews button on this page.
| | |
| --- | --- |
| About Kevin Rau | |
I'm the author of the H.E.R.O. series of novels in the SciFi/Superhero genre. I also do character art (as seen on the rest of the page here).
I've launched the Author Interview pages to promote my fellow authors, and hopefully create some cross-links back to their websites or social networks within the interview.
---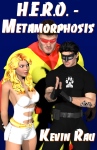 H.E.R.O. - Metamorphosis is now FREE on these online stores:
Amazon (Kindle) Smashwords
iTunes
DriveThruFiction
Barnes & Noble

Cinta García de la Rosa

Interview Date: 9/1/2012
Biography
Cinta García de la Rosa is a Spanish teacher who always dreamt of being a writer. So she writes, every day, compulsively. Always active, she is also an avid reader, a blogger and a book reviewer. Her first writings were in Spanish, but, since she got her BA in English Studies, she decided to start writing in English. Now, she feels more comfortable writing in English than in her mother tongue. She is about to publish her first book "The Funny Adventures of Little Nani", a collection of stories for children, with illustrations and other surprises. She is also working in other projects: a collection of short stories and a novelette based on the British Regency period. Apart from writing and reading, she enjoys meeting new people, dancing, and traveling.
When did you start writing, and was there a significant event that prompted you to do so?
I have been writing all my life, but it was recently that I decided that I wanted to be a published author. I have never believed in myself as a good writer. One day, I sent one of my stories to a good friend, and the feedback I got from him was amazing. That helped me to feel more confident, so I started writing every day in a more professional way.
If you could have one superpower, what would it? (Assuming said power would be reasonably powerful.)
My superpower would be the ability to stop the time, so I can do lots of things every day. That is one of my biggest complaints: not having enough time to do everything I want to do. So being able to stop the time would be really cool.
Kev's response: You know, I just thought of something wonderful with a power like that. If you were out on a picnic (or traveling, or whatever), and came across an area with beautiful lighting and scenery, you could freeze time and enjoy it longer. That would be neat.
Do you have a favorite superhero from novels, comics, or movies?
My favourite superhero is Batman. I have read many comics and watched all the films.
Where do you get your inspiration for writing? What motivates you?
I get inspiration from the things that happen to me, from my experience, from my friends, and even from conversations I hear in the streets. My motivation is my wish of having my stories published, so everybody can read those pieces that come out of me.
Do you pre-plan your stories, or are you a by-the-seat-of-the-pants style writer?
I don't really pre-plan my stories because, honestly, I don't know how to do that! I simply start writing with an idea in my mind, but normally that idea changes while I am writing, mainly because I let the characters take the lead. The story develops as the characters want it to develop. So I cannot plan my stories beforehand; they will keep on changing as long as I write them.
Do you write only when inspired, or do you have a set schedule where you sit down to write?
I try to write every day. If I am not feeling very inspired as to work on my fiction, I blog or write a journal entry. But I think that writing every day is essential to create some kind of routine.
Do you have a favorite genre to write in? To read?
I am very eclectic in my literary taste. I normally write emotional, based on feelings, short stories, but my first published book is going to be a children's book, and I am already working on a Regency-based novella. See? Very eclectic. And as far as reading is concerned, well, it is the same.
What do you enjoy the most about writing?
Writing is kind of liberating for me. Writing gives me freedom. So that is what I most enjoy about the creative process, the fact that I can create characters and situations that can live what I would like to live.
Is there any part of writing that you don't enjoy?
I don't really like the editing process. You can get really tired of reading once and once again your own work. It is not fun at all.
Kev's response: I'm the same. The editing time period is so focused and intense that it's not enjoyable for me.
Can you tell me something odd about yourself?
Whenever I see that someone has a hair on their clothes, I HAVE TO remove it. It makes me feel nervous to see that fallen hair and it distracts me. I am weird like that.
Kev's response: You must like bald people, then! :)
Do you write one story at a time, or do you have several novels in the works at one time?
I normally work on several things at the same time. Because when I am feeling a bit stuck with one thing, I have a different one to work on.
In my evil plot to take over the world, what one animal type do you advise I use and why?
Cats, because they are extremely intelligent and cunning. I am sure they must have their own plot to take over the world. I can see it in their eyes....
Kev's response: But then I would have competition, and have to look over my shoulder to see what they are up to all the time...
Where do you see the future as far as paper books versus digital e-books?
This is a tricky question. And a good one. I own a Kindle, but I love my paperbacks. I really believe that e-books are more practical in the sense that you can hold hundreds of them in just one gadget. But I would feel very sad if paper books would disappear. I love the touch, the smell, and the charm of holding a paper book in my hands. Being practical, I think that the future belongs to e-books, but I wouldn't like that to happen.
Kev's response: I think hardcovers will always remain, if only for the eclectic readers who care as much about having an interesting bookshelf as they do the reading time.
What are your current projects?
I am about to publish my first book, "The Funny Adventures of Little Nani", which I think will be available next week (hopefully). I am translating the book into Spanish, because I want to publish the same book in my mother tongue, since my friends complained about me always writing in English. I am also working on a collection of short stories, Book 2 of the adventures of Little Nani, and doing some research for my Regency-based novella. I like to be busy!
Kev's response: Between the two languages, you should have access to a massive portion of the world market. I hope it does well!
Do you have any advice for others about self-publishing?
I am not so experienced as to offer advice, but I can tell them that if they really want to be self-published authors, they must prepare themselves for working really hard. Writing a book is the easy part. Then it comes the hard work. Endless hours editing and formatting, making changes, trying your book to look the best you can, dealing with the different self-publishing retailers, and marketing. As Indie authors, nobody will know us if we don't introduce ourselves to the world. Prepare yourself to spend millions of hours trying to catch people's attention towards your work. The best thing you can do is creating a blog and using the social networks. Meet people, meet other authors, meet possible readers, and interact with them. Let them know you. Be approachable and likable. Make sure that they know that you are not a stuck-up author and that you really care about your readers. That's the most important thing. We authors wouldn't exist without our readers.
Do you have any online sites where readers can find out more about you (and your books)?
Readers can find me in the following sites:
My blog http://cintascorner.weebly.com
Twitter https://twitter.com/Austenite78
Facebook https://http://www.facebook.com/pages/Cinta-Garc%C3%ADa-de-la-Rosa-Author/333755993341596
Goodreads http://www.goodreads.com/author/show/6470058.Cinta_Garc_a_de_la_Rosa
Kev's response: Cinta, thank you for joining me! Good fortune on the release of the book through Createspace!
comments powered by

Disqus