Where I Am
FEATURES
This page features author interviews - if you are an author and would like to submit a Q&A, check the Interviews button on this page.
| | |
| --- | --- |
| About Kevin Rau | |
I'm the author of the H.E.R.O. series of novels in the SciFi/Superhero genre. I also do character art (as seen on the rest of the page here).
I've launched the Author Interview pages to promote my fellow authors, and hopefully create some cross-links back to their websites or social networks within the interview.
---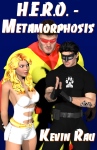 H.E.R.O. - Metamorphosis is now FREE on these online stores:
Amazon (Kindle) Smashwords
iTunes
DriveThruFiction
Barnes & Noble

Julie Elizabeth Powell

Interview Date: 3/1/2013
Biography
Hello everyone. If you haven't guessed by now I have a passion for words and have twelve books published...all thanks to Lulu and Kindle, much hard work and sleepless nights. My eldest daughter has flown the nest and is married to a man who doesn't mind his mother-in-law though my son is still fluffing his feathers.
My middle child is off on a mysterious adventure, the like of which I can only guess...and tried to do so in my first book, Gone.
I love to read and am looking for ways to double time so to indulge in the mysterious and wonderful and delicious and strange...my favourite kind of story.
Writing is my passion, though I enjoy creating handcrafted cards, jewellery making, scrapbooking and dabbling in encaustic art whenever I can.
Oh yes, I used to teach or mark exam papers but now concentrate on writing and enjoying my new life, which materialised, as if by a miracle. Though still dislike all those necessary domestic chores that would, for me, be included in the Rings of Hell!
That's it. Thank you to anyone who reads my books...enjoy the flight!
When did you start writing, and was there a significant event that prompted you to do so?
I've always dabbled, but it wasn't until what happened to my daughter, Samantha, that I felt the words had to stay and not thrown into the bin. Gone was written because of a question that haunted me during that waiting time between her first and second death. The question: Where had my daughter gone? Because who she had been had been wiped clean after her heart stopped, revived for too long and too late, leaving her severely brain damaged at the age of two; her empty twisting shell surviving for a further seventeen years until she died a second and final time. Therefore, who she had been had vanished – and gone where?..so I created Avalon and went in search of her. Since then I've written eleven more books in a variety of genres, not only because I like to challenge my writing but also that my mind refuses to linger on one thing too long – oh yes, so many voices ?
Kev's response: I'm sorry to hear of that, though I'm glad something positive came out of it.
If you could have one superpower, what would it? (Assuming said power would be reasonably powerful.)
To write and read faster – meaning, I suppose, a super-powered brain.
Kev's response: You mean that caffeine doesn't incite such a state in you?
Do you have a favorite superhero from novels, comics, or movies?
Does Tinker Bell count? For she is a superhero of sorts. But if not, then it'd be...no, sorry, I can't pinpoint one, I like them all.
Kev's response: Er, I have no answer on that one.
Where do you get your inspiration for writing? What motivates you?
Inspiration comes from everywhere and everything. Dreams too, play a major part in my ideas library. Motivation comes from – have to, got to, must do...manic laughter notwithstanding.
Do you pre-plan your stories, or are you a by-the-seat-of-the-pants style writer?
The idea flows where it wants when it must – I never pre-plan, although sometimes, especially if there are many characters, I do jot down certain aspects. However, the characters guide the way for the most part through the twists and turns (surprising me too) ending the story wherever it may lead.
Do you write only when inspired, or do you have a set schedule where you sit down to write?
I write whenever I can. It would be impossible to schedule. Maybe if I had a host of servants... I need quiet to write and love the 'zone' where time has a way of – gee, where did those hours go? The inspiration is there whenever I need it.
Kev's response: Mmm, servants. I could do with a horde of them, myself.
Do you have a favorite genre to write in? To read?
I do prefer to write fantasy because I can get away with so much (I'm not one for rules). However, I like to try other genres so as not to become bored and I love the challenge. And when the ideas come for say, a murder mystery, I'm not going to set it into fantasy, although, I suppose I could, as I do enjoy mixing genres too. It has to feel right...and anyway, the characters dictate what, where, when blah blah. Here is a list of my books and genres: Gone (fantasy), Slings & Arrows (non-fiction), Of Sound Mind (fantasy) Lost Shadows (psychological thriller /fantasy), Misadventures Of Fatwoman (humour), A Murderer's Heart (murder mystery), Figments (short stories & poems), 13 (horror), Knowing Jack (mystery adventure for 12+ish), The Star Realm #1 Avalon Trilogy – an epic fantasy adventure for 12+ish), Invasion #2 Avalon Trilogy, Secrets Of The Ice #3 Avalon Trilogy. I like to read a good story, no matter what the genre. I tend to read self-published work because there is so much variety. Authors like, Maria Savva, Darcia Helle, Jason McIntyre, T Isilwath, R.J Palmer and Michael Radcliffe have become some of my favourites. Although my favourite of all time will always be Dean Koontz, and despite being traditionally published, his writing has that magic touch for me – Stephen King too has his moments, regardless that his books can be rather dark and depressive. I read about 2-3 books a week (when I'm supposed to be sleeping) and always review.
What do you enjoy the most about writing?
The 'zone'! I love being within my worlds, watching the characters develop and how they interact and – sometimes – find their way out of the predicaments. They tend to tell me, however. I can be impatient to see the end of a project, especially if another is biting at its heels. Mostly, I love the magic that seems to happen between my brain and fingers at the keyboard and how the words fly across the pages, enveloping me within them.
Is there any part of writing that you don't enjoy?
Editing! And no matter how many times I read, re-read, those gremlins have a wonderful time hiding the typos – and yes, usually the most embarrassing! Promoting /marketing too is not my thing...hence the lack of sales, probably. ?
Kev's response: They do! I'm quite glad that I have my beta readers and copy editor to help me find that stuff, because even going through repeatedly, I miss things...
Can you tell me something odd about yourself?
I'm convinced I'm an alien, as during my long lifetime, I've never fitted in ? Is that odd enough, or would it be better if I say that chocolate is my nemesis?
Kev's response: Well, if you eat your nemesis...
Do you write one story at a time, or do you have several novels in the works at one time?
I usually have several works on the go, and ideas swirling around my mind like washday in a Chinese laundry (other laundries are available).
I'm looking to advertise for evil minions for my plot to take over the world, any suggestions?
It depends on how much you're willing to pay! A small ad in the local paper might be cheaper but then you'd be restricted to the neighbouring drug lords with so much bling that it'd be a beacon for the cops. Better to go international. Wanted: Villains, with or without cats, vital for plot in next bestseller...can bring at least two henchmen and /or sexy female, who may or may not end up sprayed with bullet holes; underworld connections not essential but an advantage.
Kev's response: Er, yes, yes, for the next book. *cough* That indeed is what I meant. *looks around*
Where do you see the future as far as paper books versus digital e-books?
Not many people seems to want paperback books these days, I think for two reasons: price and storage. Ebook readers make life simpler. I prefer a 'real' book in my hands but even I have succumbed to digital for those very same reasons. With this in mind, all my books are available in both print and digital and I try to make them as inexpensive as possible.
What are your current projects?
Current projects: Three – 1, something I haven't tried before 2, romance with a twist (not written a romance either), 3, more humour, not quite sure where it's going yet.
Do you have any advice for others about self-publishing?
If you want to write, do so. If you want to publish it, do so. Take no notice of anyone else. Many will want to bring you down, stop you, undermine you, and review your work poorly (for whatever reasons), call it a hobby etc. – don't let them. You must believe in your work and enjoy it. I've no idea if I'll ever 'make' it, and I've being trying for years, but I've come to the conclusion that enjoying the process of writing is what matters. Of course I want recognition from others, but I'm useless at marketing and have no money for the 'hype' machine. Is that why some make it and others don't? I don't know. I do think it's not always talent that reaches the bestseller list, but rather luck and knowing the 'right' people. I now read and enjoy self-published books in the majority because they are different and don't necessarily follow formulas that 'sell'. I'm not going to talk about 'celebrity' books – gee! Think about why you write and if it's to make money – forget it.
Do you have any online sites where readers can find out more about you (and your books)?
Website: http://www.freewebs.com/julizpow for interviews, reviews and advice.

Email: julizpow@yahoo.co.uk
Amazon UK
Amazon USA
Lulu (print books)
Goodreads
Facebook
http://www.facebook.com/profile.php?id=1033399808

Twitter:
@starjewelz
https://twitter.com/#!/starjewelz
Pinterest
Blogger ... used to feature other authors (new site)

Thank you very much for taking the time to read this – maybe? Thanks, Kevin.
Kev's response: Julie, thank you much for joining me! Good fortune on the varied works you're working on!
comments powered by

Disqus