Where I Am
FEATURES
This page features author interviews - if you are an author and would like to submit a Q&A, check the Interviews button on this page.
| | |
| --- | --- |
| About Kevin Rau | |
I'm the author of the H.E.R.O. series of novels in the SciFi/Superhero genre. I also do character art (as seen on the rest of the page here).
I've launched the Author Interview pages to promote my fellow authors, and hopefully create some cross-links back to their websites or social networks within the interview.
---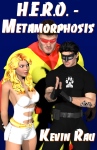 H.E.R.O. - Metamorphosis is now FREE on these online stores:
Amazon (Kindle) Smashwords
iTunes
DriveThruFiction
Barnes & Noble

Lee Chambers

Interview Date: 10/18/2012
Biography
Born and raised in Sault Ste. Marie, Ontario, Canada, I hold an Advertising Art and Graphic Design Diploma from Sault College of Applied Arts and Technology. My passion for video and film production lead to a paid position creating community television programs at MacLean Hunter Cable Television in 1991. Higher education followed with a City and Guilds diploma in Video and Television Production, followed by a post-graduate diploma in Film Production from Leeds Metropolitan University in the UK.
I spent almost ten years out of Canada, working in England and Los Angeles writing and directing drama shorts, music videos and commercials (plus numerous crew positions on feature films and television programs). My work, which includes working for the BBC, EMI and Miramax, has been screened at top festivals, such as the Cannes Film Festival and the Edinburgh International Film Festival. Critical acclaim has come from Empire Magazine, Total Film Magazine and Fox Television. Over the last decade I have been nominated and won numerous awards for screenwriting short films and features.
In November 2004, I moved to back to Canada and have been teaching in the film production program at Confederation College in Thunder Bay. In 2005, I created the Make It Short Film Project which has attracted top industry support from Academy Award winners, Paul Haggis, Denys Arcand and Roger Corman. This includes presenting professional, educational and fun film workshops at film festivals, media colleges and universities throughout the United Kingdom, United States, Australia and Canada.
When did you start writing and was there a significant event that prompted you to do so?
I first started writing novels in 2011. Although my debut novel, The Pineville Heist actually started life based on my award-winning screenplay of the same name, that I co-wrote with Todd Gordon, after I invented the story and developed the characters back in the summer of 2008.
I have to admit this is quite an unusual process, however I decided rather than the story collecting dust on a shelf during the process of turning The Pineville Heist into an independent feature film, I would share the story and develop the screenplay into a novel.
A screenplay is very much a blueprint or a plan, so being able to draft it into a novel allowed me to explore the setting in more detail and develop the characters further. The novel will also become a valuable companion tool for the actors and crew when we start principal photography.
Kev's response: It's interesting how one can use a sentence or two in a screenplay to describe someone looking somewhere, but in a novel, you have to detail it out, since the scene isn't already built.
If you could have one super power, what would it be? (Assuming said power would be reasonably "powerful")
The power I would like which would make me a super hero would be flying... I think having the ability to fly would be super, super cool. On a practical level, however, the super power I would want is the power of persuasion. To a degree I have this skill for the things I am passionate about, especially in films and getting people on board. But to have the Jedi skill of debate so that I could walk into a Boardroom and with the wave of my hand a deal has been signed for my film to be made there and then, that would be a super power to have.
Kev's response: I sense that you would be swayed by the power of the Dark Side... >:)
Do you have a favourite superhero from novels, comics or movies?
I would have to say my favourite superhero is Wesley Snipes, as Blade. He is just ultra cool; a vampire with human traits saving the human race.
Kev's response: I'm a fan of the Blade movie series. I wish he would have been more amenable to work with (whatever the specific problem causing them to have issue with him), and continue with the movies.
Where do you get your inspiration for writing? What motivates you?
In general, my ideas for books and movies come from observing life. I tend to write lots of notes in a journal and sometimes when I revisit these notes another idea for a story will spring forward.
The Pineville Heist started life from an idea I jotted down about ten years ago about a kid under a canoe. The canoe story actually goes back further to when I was about 12 years old at an outdoor camping trip with my elementary school. We played hide and seek and I hid under the canoe. I remember watching the feet of the people looking for me; they never did look under the canoe. And that is how Pineville developed, with the question of what would happen if a kid witnessed a murder while hiding under a canoe?
Do you pre-plan your stories, or are you a by-the-seat-of –the-pants style writer?
I adapt my screenplays into novels, so it is quite a pre-planned process. My second novel The Sum of Random Chance, which I independently published in July of this year, was adapted from a screenplay I co-wrote with Kris Ketonen.
Do you write only when inspired, or do you have a set schedule where you sit down to write?
When I am in the process of writing one of my novels, I have a set schedule. I sit down with the aim to complete at least a couple of pages per day.
Kev's response: I'm with you there. I set a goal of 2k words per day during the writing phase of my book, every single day, with a hopeful goal of 3-4k.
Do you have a favourite genre to write in? To read?
My last two novels have been the Young Adult genre, which have been totally fun, and totally different from each other, to write. The novel that I am currently in the planning process of writing is a comedy, so a slightly different track to my previous work.
What do you enjoy the most about writing?
I like stories, I like characters, I like generating ideas and giving stories a life. Writing novels is another avenue to feed my creative passion and I also find, as a filmmaker, it energizes me.
Is there any part of writing that you don't enjoy?
Forcing myself to actually sit down and write as I tend to need inspiration. It is a little bit like cleaning, it's a chore and you procrastinate over it, but then once you start, you get into the rhythm of it and you will sit there anally and beaver away at it. Before you know, within a few months you have completed your novel.
Can you tell me something odd about yourself?
Now why would I want to admit that? Okay, okay you've got it out of me... I do have eyes at the back of my head... really.
Kev's response: Thus the need to have mid-length hair!
Do you write one story at a time, or do you have several novels in the works at one time?
I tend to write one novel at a time as I usually have several different projects on the go all at once.
I'm looking to advertise for evil minions for my plot to take over the world, any suggestions?
I would advertise in the school bathroom, "Are you a bully? Leave the little skinny kid with glasses alone, and come join me instead to take over the world".
Kev's response: Nice! We get rid of the bullies in schools, and I gain evil minions!
Where do you see the future as far as paper books versus digital ebooks?
Initially, I launched the e-version of The Pineville Heist in July 2011, however I was still living in this fantasy world of paper and released the paperback version in October. As an independent author it is almost impossible to launch paperbacks into lots of stores, as the cost of printing and shipping books can be cost prohibitive. So I have the paperback available as print-on-demand, as well as available in a few limited bookstores. This year I also launched The Pineville Heist in audio format which is available as a download through Amazon and iTunes.
What are your current projects?
My major project and focus is getting The Pineville Heist developed into a major motion film, which has attracted Hollywood star Booboo Stewart from the Twilight Saga as the main leading character, Aaron Stephens.
While the process for funding the film is continuing, I am slowly in the process of developing and co-writing my next screenplay, again with Todd Gordon. This screenplay is very raw and gritty, totally different from what I have previously written, so I am enjoying the challenge of extending my skills and writing a different genre.

Do you have any advice for others about self publishing?
To go for it! Also don't be worried about asking for feedback or advice from different sources throughout the writing process.
Do you have any online sites where readers can find out more about you (and your books)?
I have a dedicated webpage http://www.leechambers.com where readers can find out all about my books, current news on The Pineville Heist (the movie) and my latest short film projects.
Kev's response: Lee, thank you for joining me, and best of fortune in your exploits in both film and written form!
comments powered by

Disqus